Scottish Building News 2022, Architecture Photos, Property Scotland Images, Architects Design Links
Scottish Architecture News
New Architecture Developments + Buildings in Scotland – Built Environment + Architects Updates
post updated 15 July 2022
Scottish Buildings News
This page contains a selection of major Scottish Architecture News, with projects arranged chronologically, latest first. Each architecture news item links to an individual project page. We've selected what we feel are the key Scottish Building News stories.
The focus is on contemporary Scottish buildings but we do post on changes to major traditional buildings in Scotland.
Scottish Architecture Designs – chronological list
Scottish Architecture News 2022
15 July 2022
Two Scottish winners for the UK's best new homes
The Royal Institute of British Architects (RIBA) has announced the longlist for the 2022 RIBA House of the Year. The shortlist and winner are to be revealed on Channel 4's Grand Designs: House of the Year.
Ostro Passivhaus, Kippen, Scotland, design by Paper Igloo: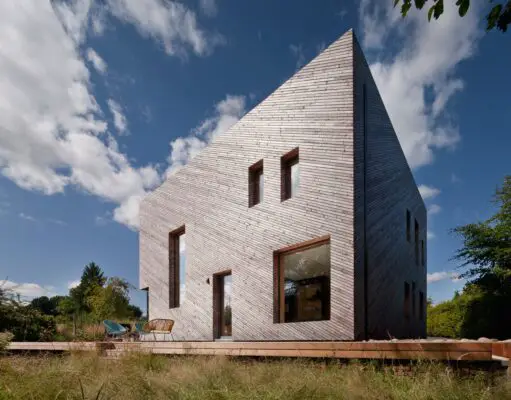 photo © David Barbour
The Den, Tighnabruaich, Scotland, by Technique Architecture and Design in collaboration with Stallan-Brand: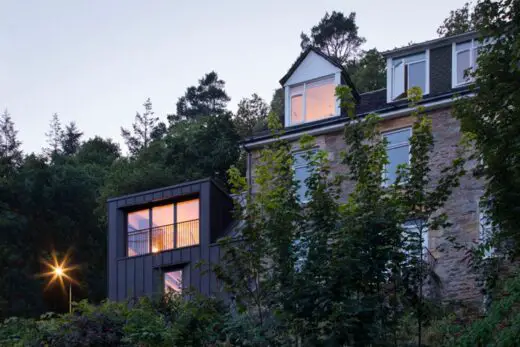 photo : Dapple Photography
RIBA House of the Year 2022 Winners
2 July 2022
Scottish Design Awards Winners
Scottish Design Awards 2022 Winners
Anderson Bell + Christie won the Architecture Grand Prix for Fielden Street, praised by judges for its attention to detail. The Design Grand Prix meanwhile was awarded to BRC Imagination Arts for the Johnnie Walker Visitor Centre, heralded as a 'celebration moment' on a street which has long needed some good news.
30 June 2022
Futures Institute at the Dollar Academy, Clackmannanshire, Central Scotland
Design: Grimshaw, Architects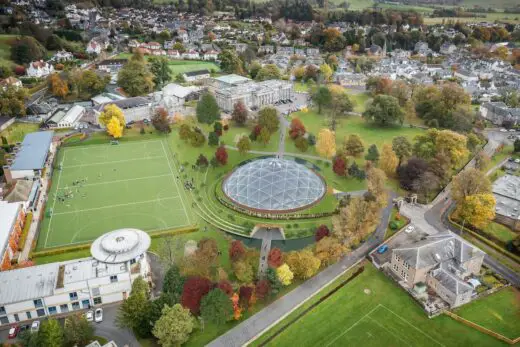 image courtesy of architects practice
Futures Institute at the Dollar Academy
International architecture practice, Grimshaw has revealed designs for the Futures Institute at Dollar Academy (FIDA) in Scotland, UK, a permanent home for the Institute which will be delivered to receive the country's first Living Building certification.
14 June 2022
Home Builders Welcome Increase In Housing Completions But Express Concern Over Affordable Housing Approvals
Latest statistics showing a 26 per cent increase in the total number of new homes completed in the year to end September 2021 compared to the previous 12 months (during which activity was impacted by Covid) have been welcomed as a step in the right direction by sector body Homes for Scotland.
With completions reaching 20,056, helping the Scottish Government to achieve its 50,000 affordable homes target, the organisation's Chief Executive Jane Wood said:
"Ensuring we have the homes that all those living in Scotland require to meet housing need and aspiration is essential to our country's social wellbeing and economic success so the increase in completions across all tenures that has been announced today is clearly very welcome. However, there is still a very long way to go. Figures are still significantly down on activity levels pre-Covid and twenty per cent below what we believe is required each year so there is no room for complacency – particularly given the very difficult circumstances currently facing home builders in terms of labour and material shortages and the significant cost pressures that result, affecting both public and private sectors.
Wood highlighted the 44 per cent drop in housing association approvals, adding:
"Unfortunately, this is consistent with member feedback and demonstrates the importance of having effective, timely data to support policy-making and the wider economy of Scotland. Urgent action must be taken to arrest this decline otherwise we will see ever decreasing numbers of affordable homes coming through the pipeline."
9 June 2022
Hydro Ness, Inverness, Northern Scotland
Design: HydroNI and P Bradley & Company with Les Hutt Architect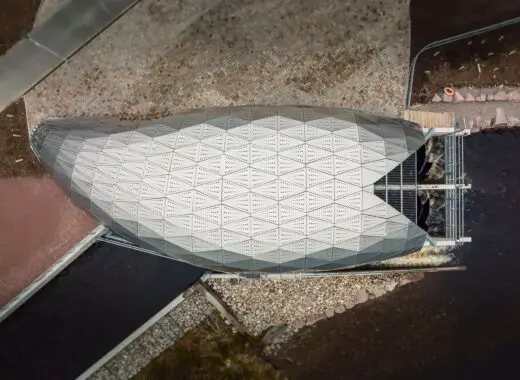 photo © The Highland Council
Hydro Ness Inverness Building
8 June 2022
University of Glasgow ARC Building News
A flagship research facility at the University of Glasgow was opened today (Wednesday 8 June) by Nobel prize winning Chemist, Professor Sir David MacMillan. The £118 m Mazumdar-Shaw Advanced Research Centre (ARC) will be the creative and collaborative heart of cross-disciplinary research at the University of Glasgow:
University of Glasgow Advanced Research Centre
7 June 2022
Usher building topping out celebration
Construction of a world-class research and teaching facility at Edinburgh BioQuarter has reached its highest point:
Usher Building Edinburgh Bioquarter
3 June 2022
RGU alumna wins Royal Scottish Academy Medal for Architecture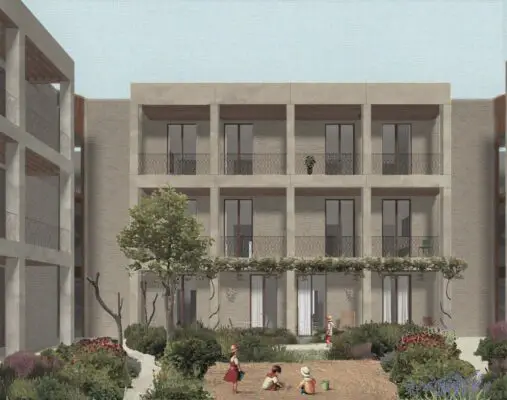 image courtesy of Claire Milnes
Scott Sutherland School of Architecture
An alumna from The Scott Sutherland School of Architecture (SSA) at Robert Gordon University (RGU) has won the prestigious Royal Scottish Academy Medal for Architecture.
26 May 2022
Collaboration Key To Delivering The New Homes Scotland Needs
The importance of ongoing collaboration between Scotland's home building sector and the Scottish Government was the focus of attention at the Homes for Scotland (HFS) Annual Lunch & Awards last Friday (20 May).
At what is a critical time for the sector and Scotland generally, that was the key message from both the organisation's incoming Chief Executive Jane Wood and Cabinet Secretary for Social Justice, Housing & Local Government Shona Robison MSP, who was also present at the event attended by 1000 senior industry figures – the largest gathering of its kind.
In her first opportunity to speak directly to HFS members, Wood stressed the need for developers of all sizes to be able to operate effectively to meet the country's housing needs.
The Cabinet Secretary acknowledged the challenging and complex landscape currently facing the sector, saying:
"The Scottish Government cannot deliver the ambitions of its 'Housing to 2040' vision alone. We need commitment and collaboration across all our partners, local government and housing stakeholders.
"The willingness of HFS to continue to engage, to innovate, to work together and bring fresh thinking to the table is to be commended. I look forward to working closely with Jane and HFS members to achieve our shared goal of delivering more homes for Scotland."
Reflecting on the day, Wood said:
"Housing is about so much more than bricks and mortar. With over £30,000 in developer contributions derived from each new private home built for vital infrastructure such as schools, healthcare, transport and affordable housing, the wider societal benefits are crucial to Scotland's success.
"Given the inextricable links across tenures, the Cabinet Secretary's recognition of present challenges and the need to work in partnership was very welcome.
"HFS and its members are absolutely committed to working together to ensure the best outcomes for our country. My top priority is to progress our positive dialogue to achieve this."
Homes for Scotland represents c200 companies which together provide the vast majority of all new homes built across the country and holds awards each year in order to improve standards and promote best practice within the home building industry. Visit www.homesforscotland.com for further information or follow us on Twitter at twitter.com/H_F_S.
Scotland's home building sector (in 2019):
• delivered 22,673 homes
• supported sustainable communities and local services
• contributed £3.4bn to the Scottish economy
• supported c80,000 jobs (equivalent to 3.5 for each home built)
20 May 2022
The Great Tapestry of Scotland Gallery, Galashiels, Scottish Borders
Design: Page \ Park, architects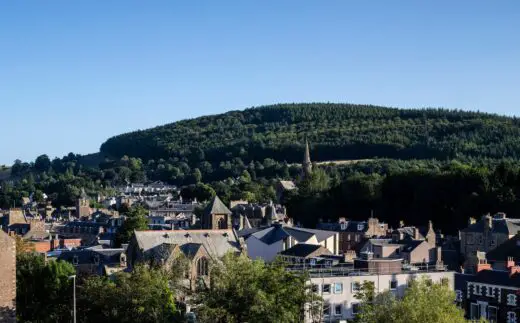 photo : Keith Hunter
The Great Tapestry of Scotland Visitor Centre Galashiels Building
The Great Tapestry of Scotland Gallery is in Galashiels at the heart of the Scottish Borders. The building was designed to house the Great Tapestry of Scotland; a unique visual history of the nation crafted by the hands of a thousand stitchers.
19 May 2022
Helenvale Street Housing
Helenvale Street Glasgow
anderson bell + christie were appointed by Parkhead Housing Association to develop proposals for a residential development on a currently derelict site in the Parkhead area of Glasgow. The scheme sits a stone's throw from Parkhead Cross and to the rear of Parkhead Library.
18 May 2022
Health and Wellbeing Centre, Edinburgh, south east Scotland
Design: Page\Park Architects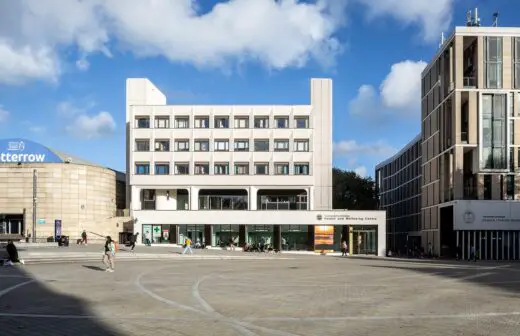 photo : Keith Hunter
University of Edinburgh Health and Wellbeing Centre
16 May 2022
Magnet – New Office Building in Glasgow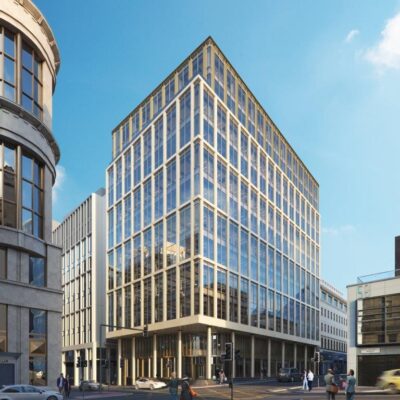 Magnet Glasgow Office Building
Mosaic Architecture + Design, one of Scotland's most experienced practices, has submitted a planning application on behalf of Garroch Investments to demolish Glasgow's Princes House and develop Magnet, a brand-new class-leading £75M Grade A office development with the highest environmental credentials.
16 May 2022
Homes For Scotland Announces New Chief Executive
Critical time as £3.4bn home building sector faces significant change and challenge. Sector body Homes for Scotland (HFS) has announced Jane Wood as its new Chief Executive with effect from Wednesday 1 June.
Read more here:
Edinburgh Building News 2022
12 May 2022
Share your views on Cumbernauld Town Centre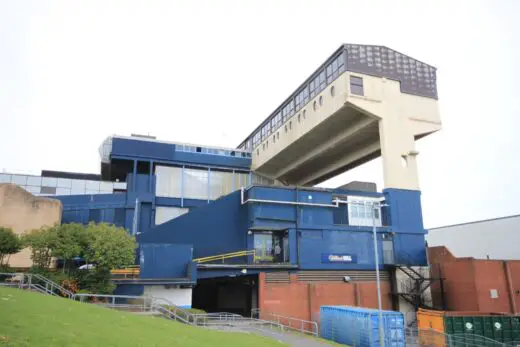 photo courtesy of HES
Cumbernauld Town Centre public consultation
Historic Environment Scotland (HES) is asking members of the public to share their views on Cumbernauld Town Centre, after the organisation was asked to consider designating the building as a listed building.
10 May 2022
The Den, Tighnabruaich, Argyll and Bute, West Scotland
Architects: Technique Architecture and Design with Paul Stallan and Stallan-Brand Architects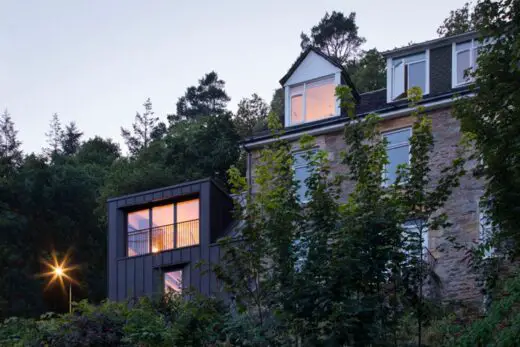 photo : Dapple Photography
The Den, Tighnabruaich
Jamie Ross, Founder of Technique Architecture and Design was the project architect, and the project was undertaken in collaboration with Paul Stallan and Stallan-Brand Architects. The main building was built in 1870s and housed 6 flats, with two further flats in the small adjoining cottage.
2 May 2022
HES sets out vision for heritage-led green recovery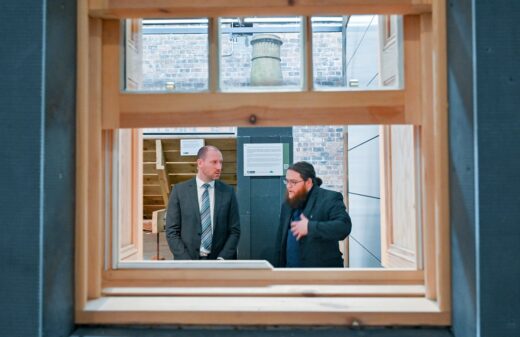 photo courtesy of HES
Historic Environment Scotland Green Recovery Statement
Historic Environment Scotland (HES) has set out its vision for how heritage can be the keystone of Scotland's green recovery with publication of its Green Recovery Statement for the historic environment on 26 April.
The Origami House
Architects: Loader Monteith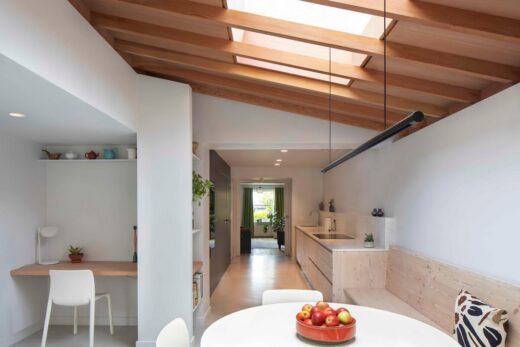 photo : dapple photography
The Origami House, Stirlingshire
27 Apr 2022
Built Environment – Smarter Transformation
Built Environment – Smarter Transformation, formerly Construction Scotland Innovation Centre, announces a new strategic focus prioritising the built environment's transition to zero carbon and improving the sector's contribution to the fight against climate change:
Built Environment – Smarter Transformation News
20 Apr 2022
Cumbernauld Town Centre Listing News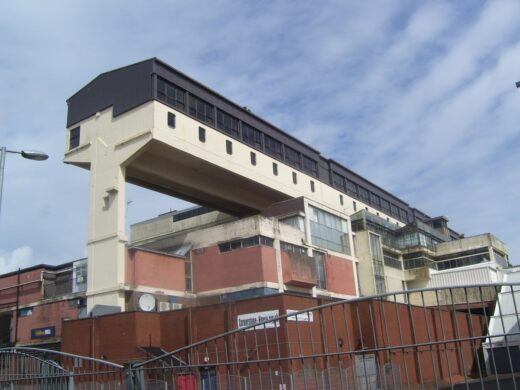 photo : Ross Watson / Cumbernauld Town Centre building, courtesy of wikimedia commons
Listing application submitted for imperilled Cumbernauld town centre, a Brutalist megastructure once voted Britain's most hated building, reports Building Design. An application has been submitted to give Cumbernauld town centre listed status amid plans for its demolition.
Cumbernauld Town Centre
12 Apr 2022
St Enoch Centre Glasgow Redevelopment News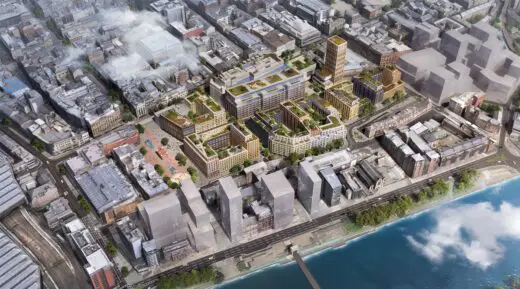 image courtesy of architects practice
Following the appointment by asset and development manager Sovereign Centros, urban renewal practice Leslie Jones Architecture (LJA) has submitted a planning application to transform the St. Enoch Centre in Glasgow into Scotland's foremost sustainable, mixed-use development with retail, leisure, entertainment, offices and hospitality:
St Enoch Centre Glasgow Redevelopment
6 Apr 2022
Kepdarroch Farmhouse
Design: Baillie Baillie
Kepdarroch Farmhouse Stirlingshire
Drawing reference from the scattered groups of barns, cottages and steadings found throughout the surrounding countryside, this new Scottish house is arranged as a cluster of forms.
5 Apr 2022
New Dumfries High School Building News
Dumfries and Galloway Council has appointed hub South West Scotland, the construction and infrastructure-focused partnership which works with local authorities and private sector enterprises in Lanarkshire, Ayrshire and Dumfries and Galloway, to develop the new Dumfries High School:
Dumfries Architecture
1 Apr 2022
Holmes Miller announce new Equity Director
Ryan Holmes' promotion to Equity Director follows a 20-year journey at the company, where he has championed new sustainability practices and the early adoption of digital technology.
As part of Holmes Miller Architects' growth strategy and continued expansion across the UK, the business today announces the promotion of Ryan Holmes to the position of Equity Director, based out of their Glasgow design studio:
Holmes Miller
29 Mar 2022
Burrell Museum Renewal News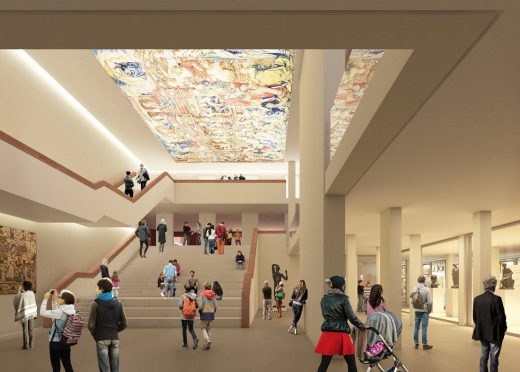 Glasgow's A-listed Burrell Museum is now open after refurbishment and redisplay, this award-winning building houses a unique collection in a beautiful woodland setting.
29 Mar 2022
Concern Over Drops In Affordable Housing Delivery As Scotland Faces 100,000 Homes Shortfall
Trade body Homes for Scotland (HFS) has expressed its concern at latest Scottish Government housing statistics which show marked drops in housing association completions and approvals.
HFS Director of Policy Fionna Kell said:
"Whilst overall levels of housing delivery are up on last year's figures, it is extremely concerning to see that housing association completions have dropped by 17 per cent (620 homes) and quite staggering that approvals have fallen by 54 per cent (3090 homes).
"Unfortunately, this chimes with what our members have been telling us. Highlighting the interconnectedness of the whole housing system, rising costs have hit those delivering homes to both the public and private sectors extremely hard. Grant funding levels must be reviewed, as a matter of urgency, to reflect these exceptional circumstances and arrest this decline otherwise we will see ever decreasing numbers of affordable homes coming through the pipeline."
Kell's comments follow a recent HFS report highlighting that Scotland's cumulative housing shortfall since the global financial crisis is now approaching 100,000 homes.
28 Mar 2022
Rosslyn Chapel Papers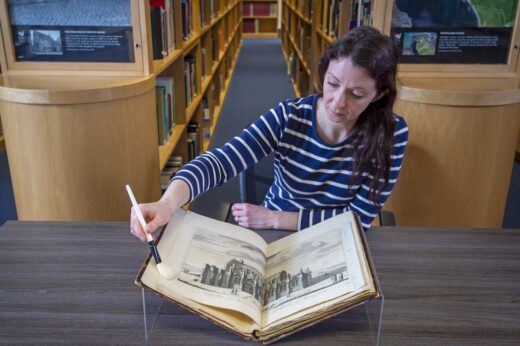 photograph © Neil Hanna
A newly acquired collection relating to Rosslyn Chapel helps to shed light on the remarkable architecture and restoration of one of Scotland's most outstanding buildings:
Rosslyn Chapel
23 Mar 2022
Homes For Scotland Announces 2022 Awards Shortlist
Home building body Homes for Scotland (HFS) has announced the shortlist for its 2022 awards programme as it plans for a return to the largest annual gathering of its kind where winners will be announced. With a focus on "going the extra mile" to deliver developments or practices which stand out from the crowd, those companies making the judges' first cut are.
Homes For Scotland 2022 Awards Shortlist
9 Mar 2022
RIAS Awards Winners in 2022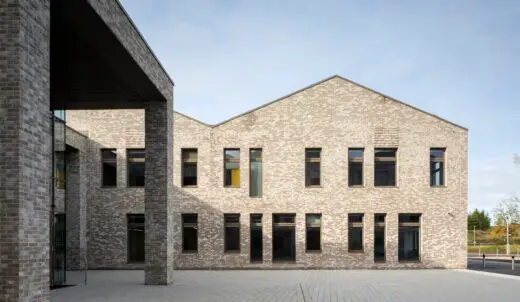 photo @ Keith Hunter
RIAS Awards 2022 Winners
The shortlisted buildings for the 2022 RIAS Awards are spread widely across the country and include new school and college buildings in Cumnock, Falkirk and Jedburgh, the restoration of an iconic Modernist house in Galashields, a community centre in Fife and pioneering low energy homes.
9 Mar 2022
The Angus Resort Given Go-ahead
New designs by 3DReid Architects, Edinburgh, approved for £100m golf resort, hotel and spa which will create hundreds of jobs for Angus and Dundee. Construction on a £100m world-class golf resort, hotel and spa in the Angus countryside will get underway this summer after councillors approved an updated masterplan for the once-in-a-generation luxury destination:
The Angus Resort
1 Feb 2022
Marking 25 years of the Scottish Design Awards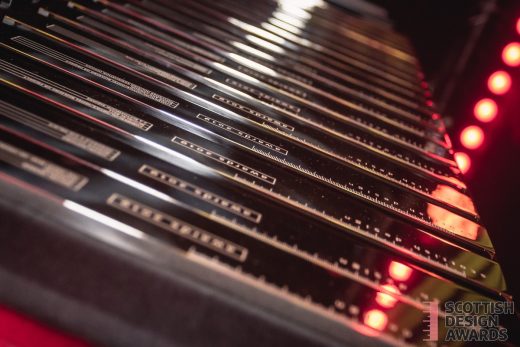 photograph : www.jwaphotography.com
Scottish Design Awards 2022
Organised by Urban Realm, in partnership with The Drum, the Scottish Design Awards have been showcasing boundary shaping work, industry best practice and sustainability in all forms for a quarter of a century. Now on the cusp of a new era, we will be celebrating a new generation of design professionals who've gone above and beyond in delivering their briefs.
25 Jan 2022
Glasgow School of Art fire inquiry unable to find cause
Fire investigators have failed to find a cause for the fire that destroyed Glasgow School of Art's world-renowned Mackintosh building in 2018, report the BBC today. The blaze broke out four years after an earlier fire had caused major damage to the building on Renfrew Street.
But following an investigation lasting more than three years, the final report concluded that the cause of the second blaze remained "undetermined". It said this was due to extensive damage and the destruction of evidence.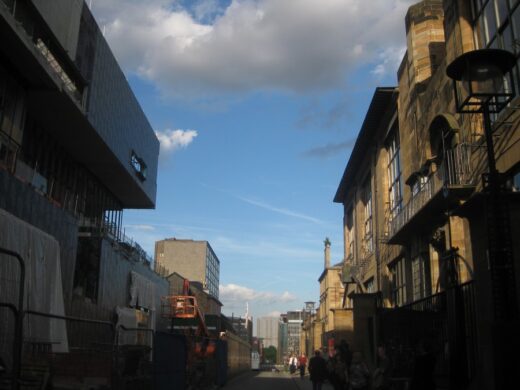 photo © Adrian Welch
The art school said it "shared the regret" that the exact cause of the fire had not been identified and would take time to consider the report and its recommendations.
The fire investigation, which lasted until 30 September 2021, involved the excavation and physical examination of hundreds of tonnes of fire-damaged debris. Witness testimonies, CCTV and photographic footage were also analysed.
The fire took hold as the Charles Rennie Mackintosh building neared the end of a £48m restoration, following the earlier blaze in 2014.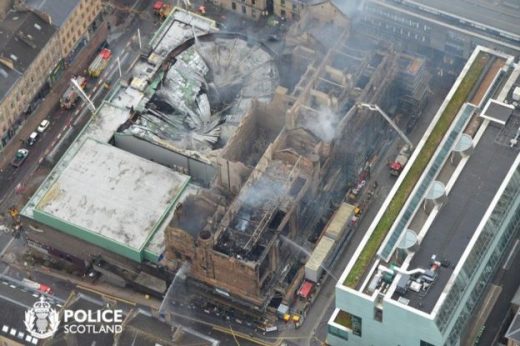 aerial photo courtesy of Police Scotland
However, investigators later learned that the first possible indication of fire in the area was one hour and 34 minutes before the first 999 call. A member of the public walking along Renfrew Street at about 21:45 smelled "burned material".
At its height, more than 120 firefighters worked to contain and extinguish the fire.
24 Jan 2022
ARC: Advanced Research Centre, University of Glasgow
The University of Glasgow welcomes the first researchers into its pioneering flagship research facility, the ARC (Advanced Research Centre). The £116 m, 16,000 sqm building will house a collaborative community of academics from across a range of disciplines and will be fully operational from Spring this year:
University of Glasgow ARC
15 Jan 2022
Milngavie Streetscape, Milngavie, East Dunbartonshire
Design: Page\Park Architects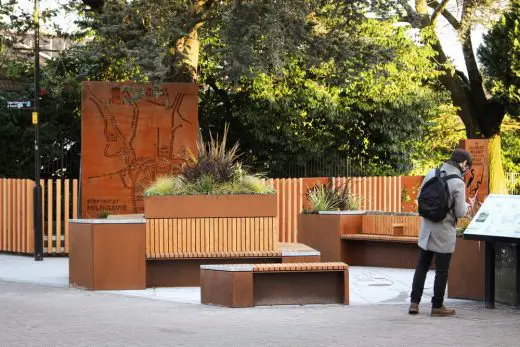 photography : ZAC and ZAC
Milngavie Streetscape
Located at a key town centre node, the central part of the project is a new gathering area, formed of seating, planters, and interpretative elements. Located at the start of the West Highland Way, the area is frequently busy with large groups of walkers and tourists, in addition to families visiting the adjacent play park.
More Scottish Architecture News online here soon
Scottish Architecture News 2021
9 Dec 2021
Artists studio Garage Conversion, Edinburgh, south east Scotland
Design: Konishi Gaffney Architects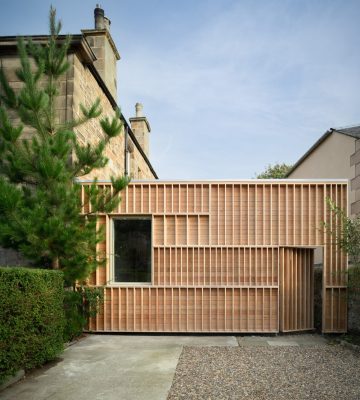 photography : ZAC and ZAC
Artists studio Garage Conversion, Edinburgh
The Artists studio Garage Conversion project was to form a new studio space for an artist. Konishi Gaffney Architects repurposed the existing garage, infilled a new floor and the old garage door and fully insulated and improved the interior.
6 Dec 2021
West Town – Vision Unveiled for New Edinburgh Neighbourhood
West Town Edinburgh Property Vision
Space for 7,000 New Homes Plus Commercial and Community Facilities at 205-acre Site in West Edinburgh. The development consortium which owns more than 200 acres of prime development land in the west of Edinburgh has unveiled an ambitious vision for a significant new neighbourhood to be built on the site.
6 Dec 2021
Cammo Meadows by CALA Homes
Cammo Meadows by CALA Homes News
A style of housing intrinsic to the Scottish capital is launching at a development in a sought-after suburb. Cammo Meadows by CALA Homes (East) is the latest destination for the developer's reimagining of the traditional Edinburgh colony model, which consists of a ground floor apartment with two duplex homes above it, accessed by an external staircase.
3 Dec 2021
House for a Chemist, Seamill, North Ayrshire, South West Scotland
Design: Brown & Brown Architects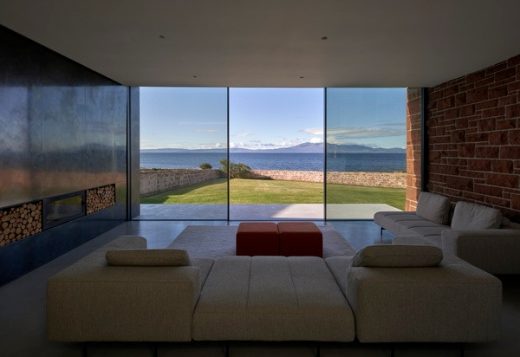 photo : Edmund Sumner
House in Seamill, North Ayrshire
'Create a whisper, not a shout' was the brief given to Brown & Brown Architects by their clients, who have raised their family on the Ayrshire coast within sight of the Isle of Arran, and feel have a deep-rooted connection to this stretch of coastline. It was very important that any new additions were visually subservient to the original house, a traditional Victorian villa of red sandstone, which had faced the elements for more than 150 years.
24 Nov 2021
2021 Saltire Housing Design Awards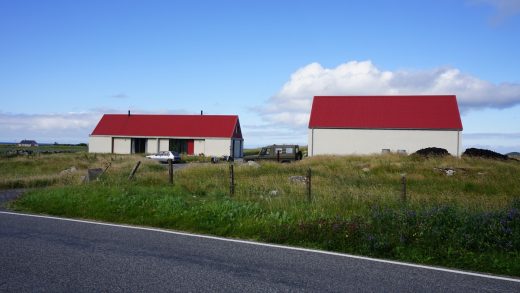 photo : Chris Smith
2021 Saltire Society Housing Design Awards Winners
The Saltire Society today announced the shortlisted houses for the 2021 Saltire Housing Design Awards, which celebrate the diversity of the best in new housing in Scotland. Supported by the Scottish Government, the Award recognises the contribution housing makes to social and cultural conversations and rewards innovation.
24 Nov 2021
Digital Transformation for Planning in Scotland
The delivery of the Digital Transformation for Planning in Scotland is well underway, following the programme's launch in April 2021.
Read the news in full at Edinburgh Building News 2021
21 Nov 2021
The Angus golf resort, hotel and spa design
Design: 3DReid Architects, Edinburgh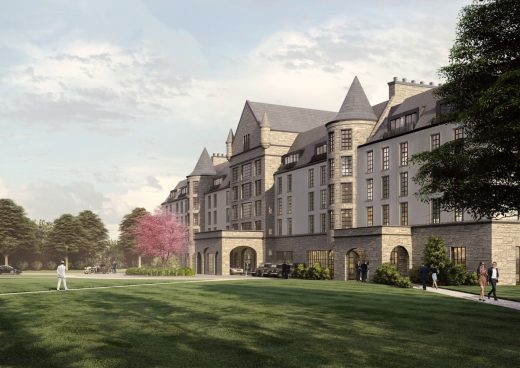 image courtesy of architects practice
The Angus golf resort, hotel and spa design
An updated masterplan for a £100m world-class golf resort, hotel and spa in the Angus countryside has been submitted to Angus Council for planning consent by 3DReid architects. The Angus represents one of the biggest hospitality investments in Scotland in recent years and could contribute more than £40m to the local economy per year once it's operational.
4 Nov 2021
Rainbow Pavilion, Strathclyde Country Park, south east of Glasgow, central Scotland
Design: O'DonnellBrown, Architects with artist Kate V Robertson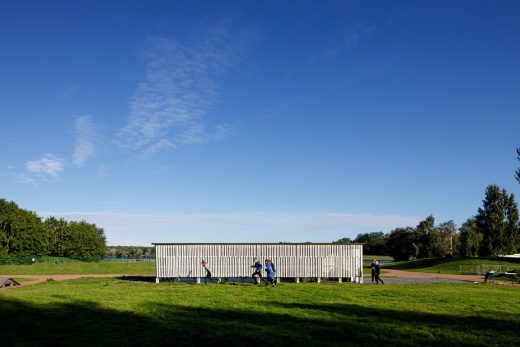 photo © Ross Campbell
Rainbow Pavilion in Strathclyde Country Park
Today, to mark Outdoor Classroom Day, a global movement to inspire and celebrate outdoor play and learning, North Lanarkshire Council has unveiled an exciting new addition to its facilities at Strathclyde Country Park: a large multi-use structure and artwork to accommodate and promote outdoor learning and events. It is the result of a creative collaboration between Glasgow-based artist Kate V Robertson and award-winning architects O'DonnellBrown, and the primary schoolchildren of New Monkland Primary School.
3 Nov 2021
UN Centres of Excellence for High-Performance Buildings
29 Oct 2021
Zero-carbon COP26 House opens its doors to the public, Broomielaw, Glasgow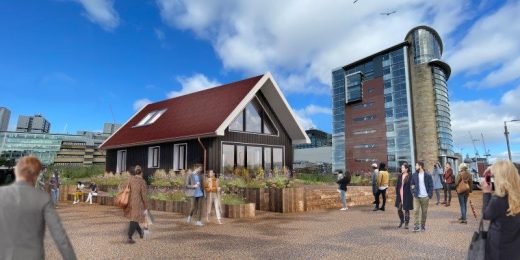 photo courtesy of architects office
Zero-carbon COP26 House Glasgow, Scotland
COP26 House, which demonstrates how beautiful, affordable homes can help meet global climate change ambitions, will open its doors to the public for two weeks only from Monday, 1 November. Built by Glasgow-based regeneration specialists Urban Union for the UN Climate Change Conference, the zero-carbon timber-frame building was developed by Beyond Zero Homes.
28 Oct 2021
UK needs to grow back better to build back better, timber conference to hear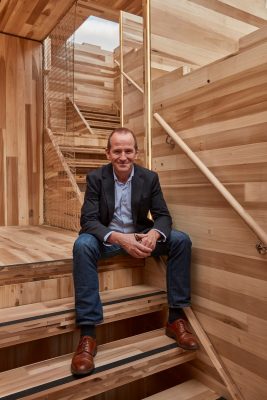 photo courtesy of architecture office
COP26 Wood for Good conference
A focus on sustainable forestry from the ground up could be the key to building back better, one of the leading voices on timber architecture and construction has said ahead of the Wood for Good conference running alongside COP26 next week. Andrew Waugh of Waugh Thistleton Architects, and a pioneer of low-carbon design, said that managing our homegrown timber resources from the forest floor up is critical to supporting growing demand from the construction sector as it looks to more widely adopt sustainable materials.
28 Oct 2021
Climate Change Events in Scotland
Climate Change Events in Scotland
23 Oct 2021
Boreraig House, Galtrigill, Isle of Skye, Inner Hebrides, north west Scotland
Design: Dualchas Architects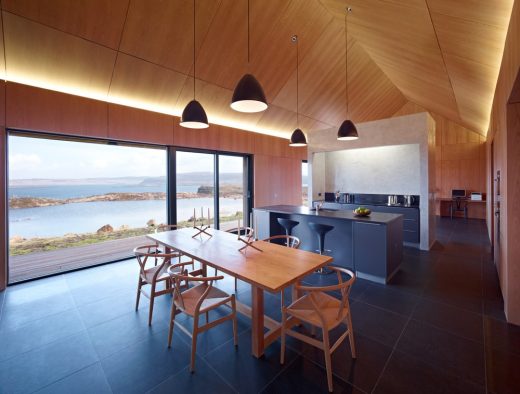 photo : Andrew Lee
Boreraig House in Galtrigill, Isle of Skye
The multi-award winning Boreraig House has been inspired by the Scottish blackhouse, but abstracted in to modern architecture. The client inherited the croft from his mother, and he wanted to build a home that connected with the landscape and the local heritage.
22 Oct 2021
The Glasgow School of Art shares outcome of detailed analysis of options for the Mackintosh Building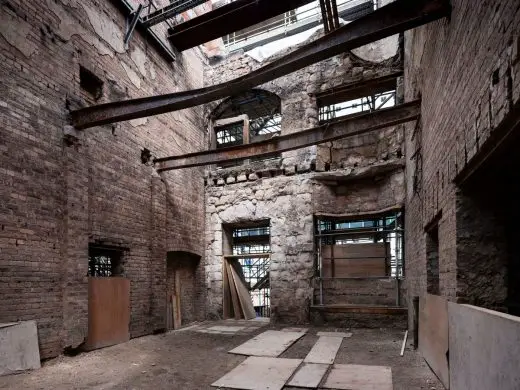 photograph © McAteer
Mackintosh Building Options, Glasgow School of Art
The Glasgow School of Art has shared the outcome of a Strategic Outline Business Case (SOBC) for the Mackintosh Project, a rigorous analysis of the options for the Mackintosh Building. Commissioned by the GSA from external consultants (a hub West-led team including Avison Young) the analysis was undertaken in line with the HM Treasury Green Book guidance and Scottish Public Investment Manual.
22 October 2021
Fife College to progress first net-zero college building, Eastern Scotland
Design: Reiach and Hall architects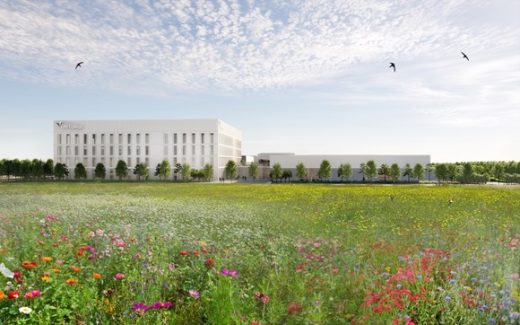 image courtesy of architects practice
Fife College Dunfermline Campus Building
The Scottish Government has agreed that Fife College can progress to the next stage of its project to deliver the first net zero tertiary education building in Scotland. Having submitted the business case for the new Dunfermline campus in August, Scottish ministers agreed to invest up to £100 million in providing a low carbon, modern, flexible learning space for students.
7 Oct 2021
RHSPT Welcomes Approval Of New National Centre For Music
The Royal High School Preservation Trust (RHSPT) has welcomed today's decision by the City of Edinburgh Council's Finance and Resources Committee to approve the restoration of the iconic Thomas Hamilton building on Calton Hill as a world-class centre for music education and public performance for the benefit of the whole of Scotland:
New National Centre For Music Edinburgh
7 Oct 2021
CSIC to showcase the built environment's role in combatting climate change
Construction Scotland Innovation Centre (CSIC) is set to put the built environment at the heart of addressing climate change by hosting an international showcase that will run alongside the COP26 summit from 1-12 November. Through an extensive programme of activity at its Innovation Factory in Hamilton, CSIC will demonstrate the low and zero-carbon alternatives available to the construction sector and the emerging opportunities to build more sustainably:
Construction Scotland Innovation Centre at COP26
7 Oct 2021
BDP Makes A Return To Edinburgh With Pattern Acquisition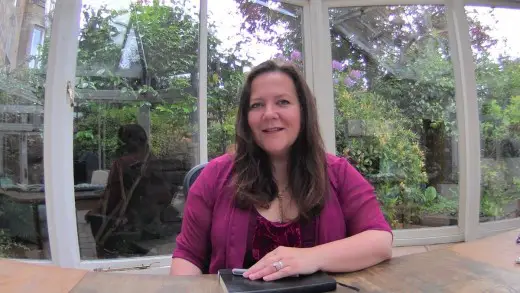 photo courtesy of architects office
BDP returns to Edinburgh with Pattern acquisition
BDP's recent acquisition of the specialist sports and stadia architecture firm, Pattern Design – the practice delivering Everton FC's new £500 million waterfront stadium – results in BDP's return to Edinburgh. Previously, BDP held an Edinburgh office from 2008 to 2011.
10 Sep 2021
Bell Street Stables, Glasgow – wins Historic Environment Scotland Conservation and Climate Change Award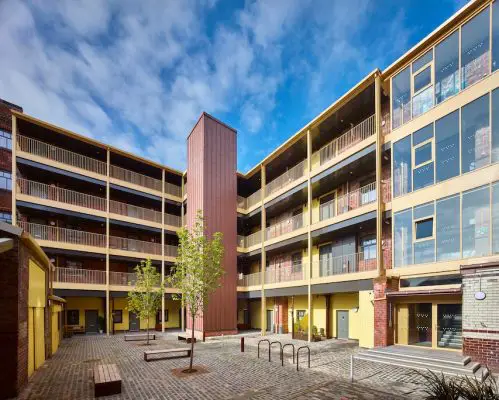 photo © Andrew Lee
Bell Street Stables Glasgow Building
A remarkable conversion of a Victorian council depot to create 52 new homes for affordable rent in the centre of Glasgow has been named as the winner of Historic Environment Scotland's Conservation and Climate Change Award, a Special Category Award of the Royal Incorporation of Architects in Scotland's (RIAS) Awards.
10 September 2021
Water's Edge, Camperdown Street, Dundee, East Scotland
Design: Nicoll Russell Studios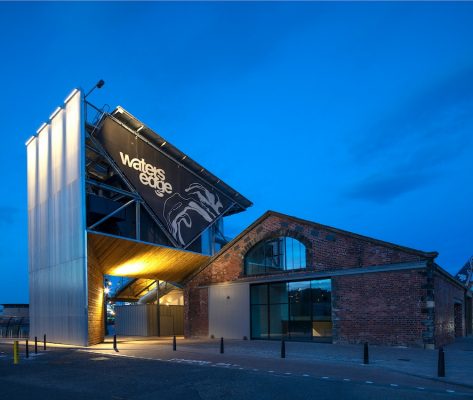 photo : Fraser Band, courtesy of Nicoll Russell Studio architects practice
Water's Edge Dundee Building
Water's Edge is the transformation of another industrial building, this time a mid C19th transit shed later extended to double its size, immediately adjacent to Dundee's Camperdown Dock.
6 Sep 2021
Kelvin Hall television and film studio, Glasgow
Design: Reiach and Hall Architects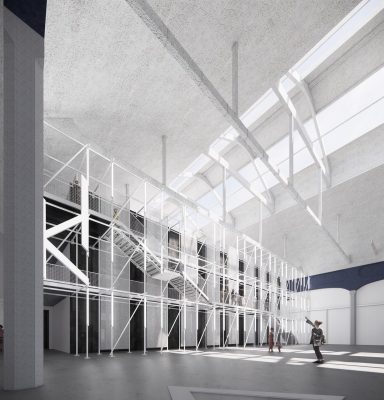 image courtesy of architecture practice
Kelvin Hall Glasgow television and film studio
Glasgow City Council secured funding from the Scottish Government to develop a new television and film studio as part of the ongoing refurbishment of the city's historic Kelvin Hall. The production facility will support Glasgow's dynamic screen and creative industries sector; an industry estimated to be worth up to £500m to Scotland each year with 60% of its revenue generated in Glasgow.
3 Sep 2021
New National Centre For Music At Old Royal High School, Edinburgh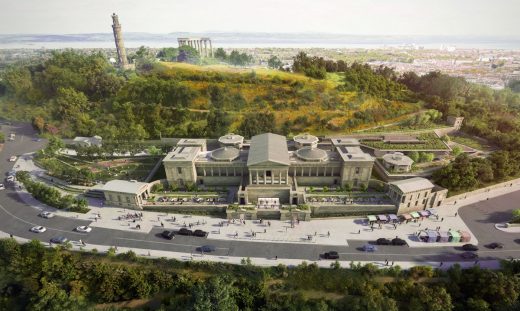 image courtesy of architects practice
New National Centre For Music Edinburgh
The Royal High School Preservation Trust has submitted detailed proposals to City of Edinburgh Council for the restoration of the iconic Thomas Hamilton building on Calton Hill as a world-class centre for music education and public performance for the benefit of the whole of Scotland. The Trust's ambitions have evolved into a vision for a new National Centre for Music with clearly defined spaces for classical music education, community access and engagement and performance.
18 Aug 2021
St James Quarter , central Edinburgh
Architects: BDP Glasgow studio + Allan Murray Architects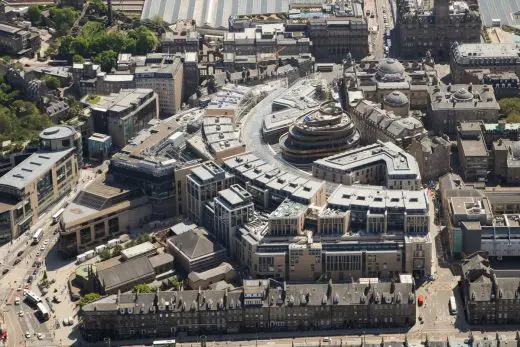 St James Quarter Edinburgh
BDP has helped complete the delivery of phase one of the new St James Quarter, Edinburgh, working with client Nuveen Real Estate to create a new destination in the heart of the capital. A new and modern 1.7 million sq ft masterplan in urban placemaking, it is one of the UK's largest inner-city regeneration projects.
10 August 2021
Designing a lower carbon Scotland
Keep Scotland Beautiful partners with Architecture and Design Scotland to develop and deliver bespoke version of accredited Climate Emergency Training
All 26 staff at Architecture and Design Scotland undertook Climate Emergency Training in July as the organisation became one of the first in Scotland's design and construction sector to take the accredited training, developed with, and provided by environmental charity Keep Scotland Beautiful.
Designing a lower carbon Scotland
Keep Scotland Beautiful is your charity for Scotland's environment. They work with people to help combat climate change, reduce litter and waste, and protect and enhance the places we care for. They support the ambitions of the United Nations Sustainable Development Goals.www.keepscotlandbeautiful.org
Keep Scotland Beautiful offers a portfolio of Climate Emergency Training to support organisations, businesses, communities, young people and individuals to understand the climate emergency and respond to the risks, opportunities and responsibilities ahead. Further details at www.keepscotlandbeautiful.org/climate-emergency-training
The Climate Emergency Training will be fully accredited by The Carbon Literacy Project. Carbon Literacy is an awareness of the carbon costs and impacts of everyday activities, and the ability and motivation to reduce emissions, on an individual, community and organisational basis. Further details at https://carbonliteracy.com
27 July 2021
3DReid Student Prize 2021 Winner
Tiia's project, Cloud Cooperative, tackles the subject of data, challenging the current monopoly on the ownership and storage of our private information. Her response to an infrastructure which is otherwise hidden, inaccessible, remote and abstract is a community-owned research facility that is accessible to all and marries architecture and technology beautifully and responsibly:
3DReid Student Prize 2021 Winner News
27 July 2021
Icebox Challenge Glasgow Design
The Architecture students from The Scott Sutherland School at Robert Gordon University recently won a national competition to design a highly energy efficient buildings that marks the build up to the 2021 UN Climate Change Conference in Glasgow: Icebox Challenge Glasgow
23 Jul 2021
Learning & Teaching Building at the University of Strathclyde, central Glasgow
Design: BDP Glasgow Studio, Architects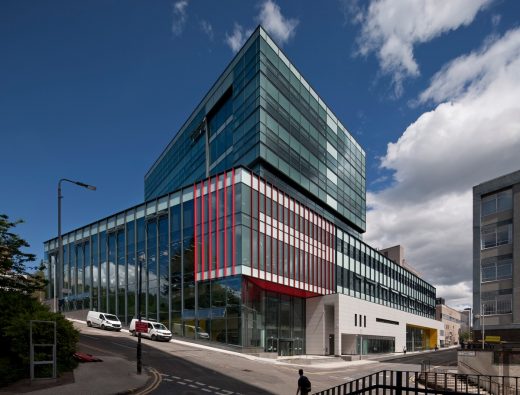 photograph : David Barbour
Learning and Teaching Building University of Strathclyde
The Learning and Teaching Project is a unique and collective hub for students and staff, comprising a variety of learning and teaching spaces, from small breakout spaces to a 400 seat lecture theatre. The range of spaces is reflective of the varying needs of activities throughout the building.
18 July 2021
Scottish Design Awards 2021 Winners News
Scottish Design Awards 2021 Winners
13 July 2021
Glasgow Queen Street Station Building News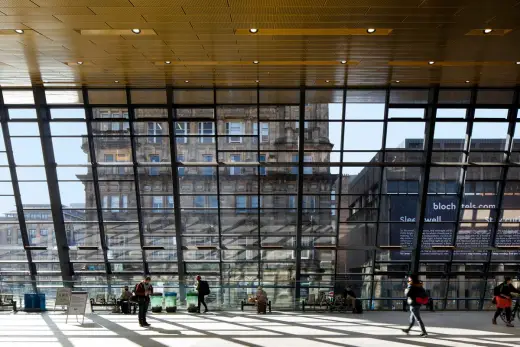 photo : Nick Caville
Glasgow Queen Street Station Building
The constraints of the tunnel throat meant a significant part of the platform extensions would be southward displacing the concourse from beneath the train shed to the area between its fanlight and West George Street. The new concourse's architecture had to work hard to provide the functionality required.
22 June 2021
Scottish design project makes AJ Architecture Awards shortlist
Calton Hill City Observatory Edinburgh design by HarrisonStevens: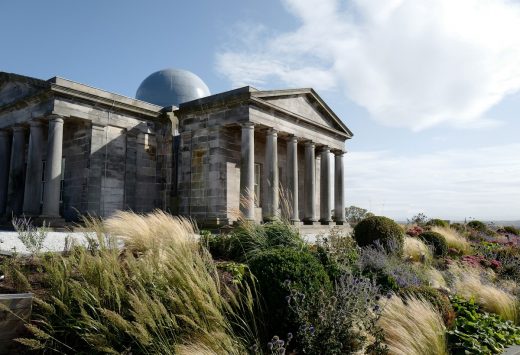 Calton Hill City Observatory in Scotland's capital has been nominated for an AJ Architecture Award this week. The design by HarrisonStevens, the Edinburgh-based Landscape Architects and Urban Designers, Calton Hill City Observatory has been nominated in the Landscape and Public Realm category in the annual awards:
Edinburgh Building News 2021
9 Jun 2021
Kincardine, Places for Everyone News
A community-led design project in a Fife town has been nominated for a Scottish Design Award. Created by HarrisonStevens, the Edinburgh-based Landscape Architects and Urban Designers, the Kincardine, Places for Everyone project has been nominated in the Future Building or Project category in the annual awards:
Kincardine, Places for Everyone Project
28 May 2021
Pleasure Scene Exhibition – The Digital Culture of Contemporary Architectural Drawings
11 June – 25 July 2021
29 Trafalgar Avenue, London, SE15 6NP, England, UK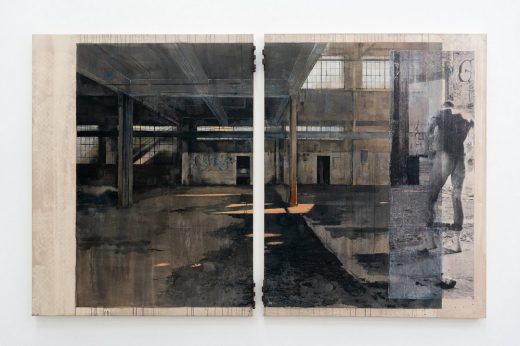 The inaugural exhibition at Trafalgar Avenue marks the culmination of an 18-month collaborative project bringing together nine artists from across the UK to respond to the iconic modernist ruin, St Peter's Seminary, Scotland.
20 May 2021
European Award for Architectural Heritage Intervention 2021
rankinfraser landscape architecture are shortlisted for The Dunbar Battery in East Lothian. It is one of ten works in category B – Exterior Spaces – judged by the architects, Delphine Péters, Olga Felip and Isabel Aguirre, after evaluating 49 participating proposals.
The Dunbar Battery, Dunbar, Scotland, United Kingdom. rankinfraser landscape architecture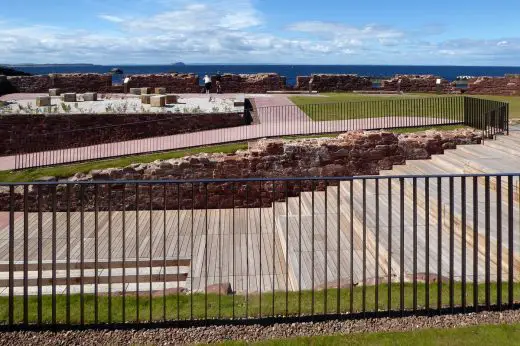 photo © rankinfraser landscape architecture
The 5th edition of European Award for Architectural Heritage Intervention, with a success of participation that coincides with the celebration of its 10th anniversary, publishes the names of those shortlisted in the a and b categories.
European Award for Architectural Heritage Intervention 2021
11 May 2021
First Passivhaus Primary School, Perth and Kinross
Design: Architype Architects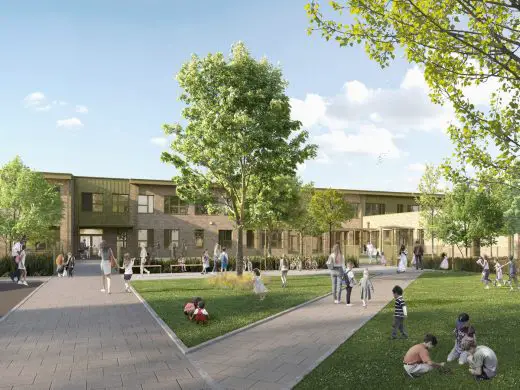 image courtesy of architecture practice
North Perth Passivhaus Primary School
The school, which will replace both the current North Muirton and Balhousie Primary Schools, is being delivered by Robertson Construction Tayside on behalf of hub East Central with Architype as both Lead Consultant and Passivhaus Designer.
23 Apr 2021
New leisure centre in Ayr
hub South West and contractor, BAM, set to revive Ayr town centre with construction of new leisure facility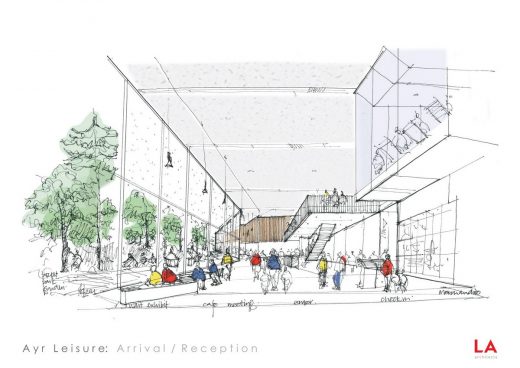 Work to develop a new leisure centre in Ayr is progressing following South Ayrshire Council's appointment of hub South West, the construction and infrastructure-focused partnership which operates alongside local Authorities and private sector enterprises in Lanarkshire, Ayrshire and Dumfries and Galloway:
Read the news in full at New leisure centre in Ayr
2 Apr 2021
Trust objects to plan for 82 houses and a 'visitor centre' adjacent to The Pineapple, Hill of Airth
Conservation charity the National Trust for Scotland has lodged a formal objection to a planning application lodged by George Russell Construction for a housing development at Mains Farm, Airth, directly adjacent to The Pineapple and the historic Dunmore Estate.  Dating to 1761, The A-Listed Pineapple is one of Scotland's most exotic and celebrated buildings and was constructed by the Earl of Dunmore amid a purpose-designed landscape.  The property has been in the Trust's care since 1973.
The Pineapple, Dunmore Estate: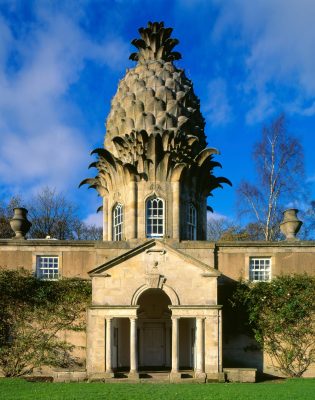 photo © The Dunmore Pineapple, Falkirk. David Robertson 1999, National Trust for Scotland
An unsolicited proposal for a visitor centre along with 22 houses was made public in 2018 and the Trust entered into correspondence with the developer.  Contrary to the impression given in the developer's Design and Access Statement, the Trust did not endorse the proposals and merely requested assurances on the ecological impact on rare species as well as clarification on the purpose of the visitor centre. No such assurances were forthcoming and the developer eventually withdrew the planning application for this initial scheme.
The new application, which is now under consideration by Falkirk Council, almost quadruples the number of proposed houses to 82. The overall scheme causes the Trust great concern for the integrity and setting of the landscape around the Pineapple, as well as the threat to wildlife.   It is also the Trust's view that a development in this location would set a planning precedent that may mean more of the area being re-zoned for development.
The National Trust for Scotland's Chief Executive, Phil Long said:
"The Pineapple is one of the most significant buildings in Scotland and its unique ambience is dependent on its setting within Dunmore Park with its woodland and abundant wildlife.
"It is clear to us that this development scheme would have a hugely adverse impact on the site, which is designated within the Inventory of Gardens and Designed Landscapes in Scotland.  As we have seen all too often, inappropriately-scaled and sited developments have impaired or overwhelmed many important historic and natural landscapes and it's our obligation to ensure that this does not happen to The Pineapple."
2 Mar 2021
Radisson Hotel Objection News
From Architect Alan Dunlop:
As the architect and designer of the Radisson SAS, a project that has garnered many architecture and hotel design awards, nationally and internationally. I write to object in the strongest possible terms to these proposals.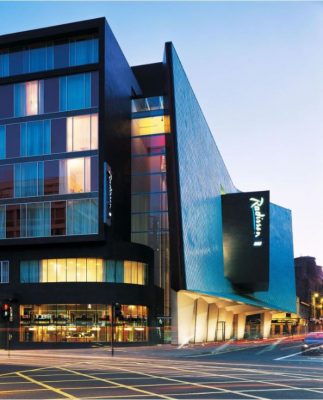 photograph : Andrew Lee
Read Professor Alan Dunlop's objection in full at Radisson Hotel Glasgow
Readers comments welcome – this is one of gm+ad's major works, the planning submission pushes the glass volume out into the street, and creates a new entrance at the north west corner. Alan Dunlop's original design gave back space to Argyle Street, encouraging a generous approach to the public realm in the heart of Scotland's largest city.
26 Feb 2021
Lower Tullochgrue, Aviemore, northern Scotland
Design: Brown & Brown Architects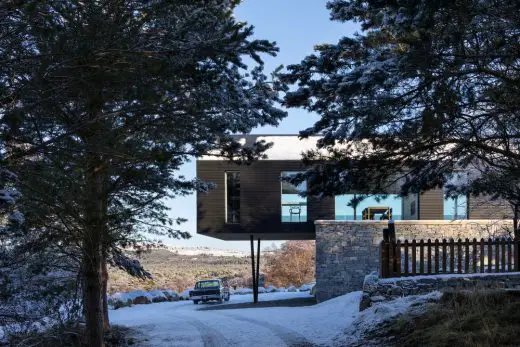 photograph © Gillian Hayes
Lower Tullochgrue, Aviemore
Lower Tullochgrue is the refurbishment and extension of a traditional house in the heart of the Cairngorms National Park. A dilapidated steading has been replaced by a contemporary extension, with a timber and glass upper volume above a stone plinth, with the existing topography of the site maintained at all times.
26 Feb 2021
Strone Cottage, Scottish Highlands
Design: Loader Monteith Architects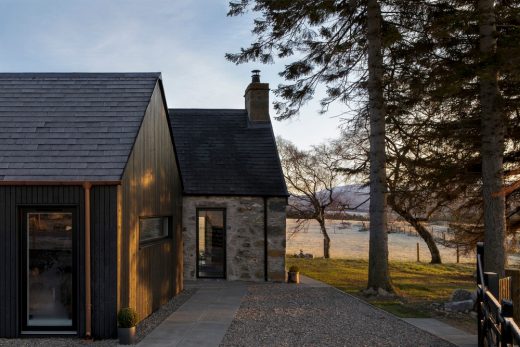 photography : Nigel Rigden and Gillian Hayes
Strone Cottage, Scottish Highlands
The Strone Cottage is the adaptive restoration and extension of a highland bothy in the Cairngorm Mountains of Scotland.
12 Feb 2021
Upper Parkbrae House, Oyne, Aberdeenshire, North East Scotland
Design: Brown & Brown Architects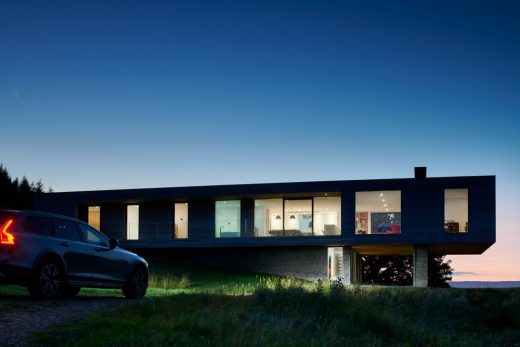 photograph © Nigel Rigden
Upper Parkbrae House, Aberdeenshire
This contemporary Scottish property design is comprised of a timber and glass box, which is cantilevered above the landscape, and sited on a stone wall which runs both inside and outside of the building.
11 Feb 2021
ER Residence, Glasgow Property
10 Feb 2021
Langside Halls Queen's Park, Glasgow
5 Feb 2021
Scottish Design Awards 2021 Programme
1 Feb 2021
Kingsborough Gardens, Glasgow
More contemporary Scottish Architecture News on e-architect soon
Scottish Architecture News 2020
Summer to Winter news items:
18 Dec 2020
Literature House for Scotland, John Knox House, Edinburgh
Winning Architects: Witherford Watson Mann ; Groves-Raines Architects Studios ; Studio MB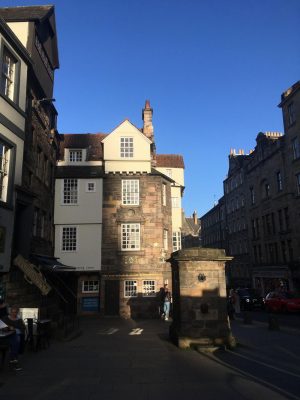 photograph © Daniel Lomholt-Welch
Literature House for Scotland
Edinburgh UNESCO City of Literature Trust has selected Stirling Prize winning architectural firm Witherford Watson Mann to lead the next phase of development at the Literature House in Edinburgh. They will be working in partnership with Groves-Raines Architects Studios and Edinburgh-based Studio MB.
20 Nov 2020
Cloch Lighthouse in Gourock
Design: Benjamin Tindall Architects
Cloch Lighthouse in Gourock
Guiding light. Dougall Baillie Associates to advise on changes to home at the Cloch Lighthouse. The professional services of a Lanarkshire civil and structural specialist have been enlisted to advise on a significant upgrade to accommodation at one of Scotland's most picturesque and dramatically-situated lighthouses.
19 Nov 2020
Holiday Inn Pacific Quay Hotel
Architects: Mosaic Architecture + Design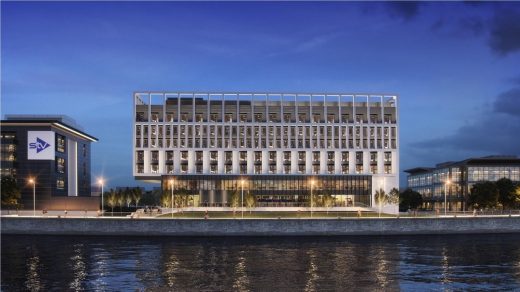 image courtesy of architects
Holiday Inn Pacific Quay Hotel Glasgow
Mosaic Architecture + Design, one of Scotland's most experienced practices, has secured Glasgow City Council planning approval to build an £18m Holiday Inn Pacific Quay hotel on the site of the former Glasgow Garden Festival.
10 Nov 2020
Quarry Studios, Deeside, Cairngorms National Park, Scottish Highlands
Design: Moxon Architects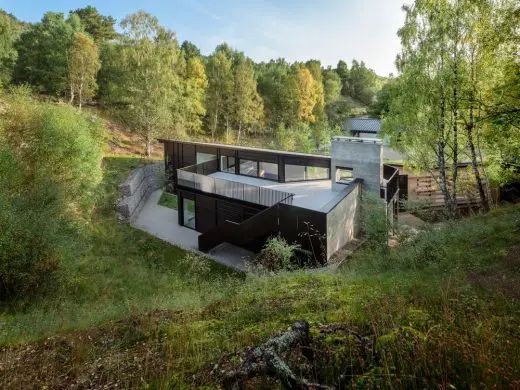 photo © Timothy Soar
Quarry Studios in Cairngorms
Quarry Studios is conceptually anchored in the landscape by two main elements; vertical concrete chimneys acting as a counterpoint to the low profile of the roof and a massive timber wall that intersects each volume.
6 Nov 2020
Laurieston Living Award News
Design of Phase 2: architects Anderson Bell Christie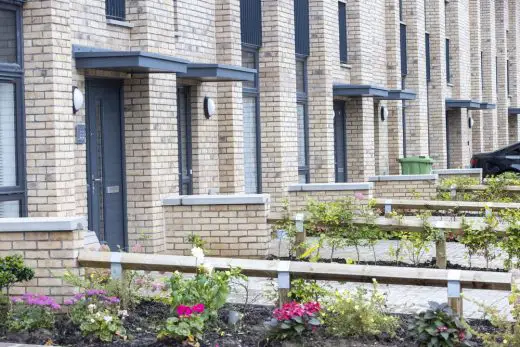 image courtesy of architects
Laurieston Living Glasgow
A local Glasgow housing development has been named the best Affordable Housing Development of the Year in Scotland. Laurieston Living, which is being delivered by Scottish home builder Urban Union, scooped the award at this year's Scottish Home Awards – seeing off competition from across the country.
5 Nov 2020
Chivas Brothers HQ in Glasgow
International design studio Graven, has designed new, award-winning offices for Chivas Brothers, the Scotch whisky business of Pernod Ricard, on Blythswood Square in Glasgow's city centre:
Chivas Brothers Glasgow
29 Oct 2020
Science Centre Glasgow Photos
We took some photos of this cluster of interesting buildings in a rare window of good weather: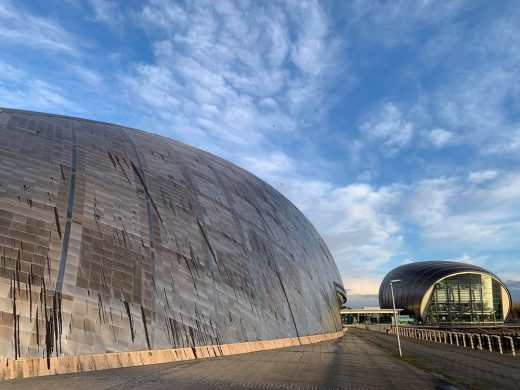 photo © Adrian Welch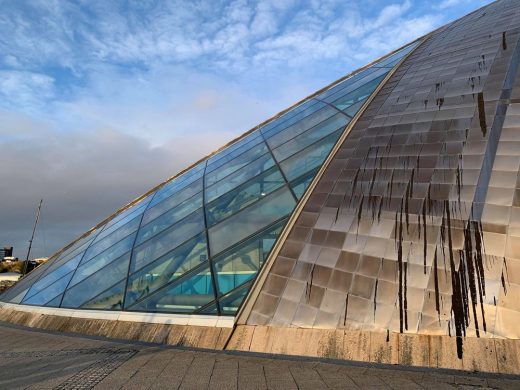 photo © Adrian Welch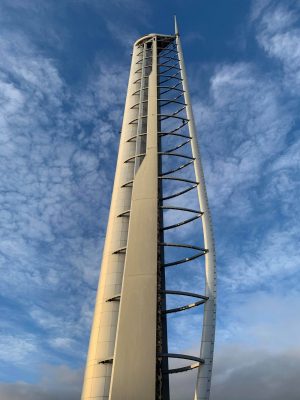 photo © Adrian Welch
Science Centre Glasgow
29 Oct 2020
Canonmills Garden Recognised for Success at the Scottish Homes Awards
Canonmills Garden, Artisan Real Estate's stylish new homes development in Edinburgh, is in the running for two prestigious accolades in this year's Scottish Home Awards which takes place on Thursday (October 29):
8 Oct 2020
Langside Halls Queen's Park, Glasgow
11 Sep 2020
Scottish Design Awards 2020 Winners
11 Sep 2020
The Carpenter's House, Stenton, East Lothian
10 Sep 2020
Scottish Architecture Conference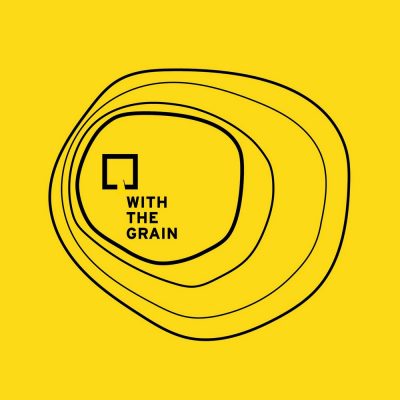 The programme for the RIAS 2020 convention has been announced. With the Grain will run online from Monday 28 Sept – Friday 2 October:
RIAS Convention 2020: With the Grain
7 Sep 2020
Hidden Stories Map: Glasgow Doors Open Day
4 Sep 2020
St Peter's Seminary Cardross Building
30 July 2020
Planning Application Submitted for New Town Quarter Development
Plans have now been submitted for one of the largest developments to come forward in Edinburgh's city centre for a generation.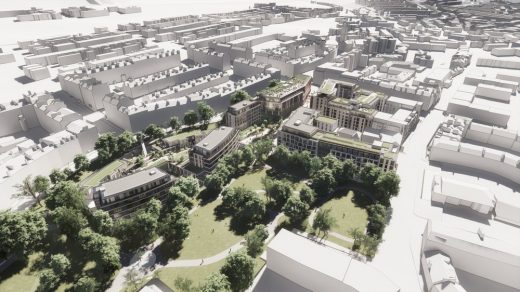 Ediston and Orion Capital Managers have been working together on their shared vision for New Town Quarter, previously known as New Town North, since last year and have carried out what has been one of the largest consultations ever on a city centre development.
27 July 2020
Maven acquires site in Edinburgh
Maven Capital Partners, a leading UK property and private equity manager, has purchased a site at Murieston Crescent, Edinburgh, for the development of a purpose built student accommodation (PBSA) complex.
21 July 2020
Builders frustrated by poor performance on crucial planning decisions
Responding to official planning performance statistics for 2019/20 published today, trade body Homes for Scotland (HFS) described another overall increase in decision times for housing applications as "hugely frustrating".
Director of Planning Tammy Swift-Adams said:
"Despite an 11.5 per cent drop in the number of decisions made on local housing applications (defined as being for less than 50 homes), the time taken to make those decisions crept up for the second year running.
"This is concerning given that these small developments are, by nature, the lifeblood of SME home building businesses – a sector supported by Scottish Government loan funding during the crisis, but also needing local government support if it is to thrive".
"Things are no more positive for major housing applications (those for 50 or more homes), decisions on which were two weeks slower than the previous year at 37.5 weeks – more than double the 16 week statutory timescale."
"With all of the consultation and discussion time that has gone into improving the planning system, it is extremely frustrating to see this evidence that improvements are just not emerging on the ground."
"And, of course, we also await the Scottish Government's decision on whether planning application fees will be increased again. This decision, and the timing of its implementation, must be made in the context of this performance – with home builders currently receiving some of the poorest service across the system whilst already paying the lion's share of fees."
Swift-Adams also points to the Scottish Government's new consultation document proposing changes to Scottish Planning Policy. These include removing the principle that planning applications that will help solve housing shortages should be looked upon favourably by decision-makers. The paper also seems to suggest that planning authorities should focus more singly on allocating their preferred sites and pay less regard to whether or not the homes that are needed are actually going to be built.
She continued:
"Scottish families and communities don't need housing land. They want real homes to live in, and more of them. That requires a better functioning system and policy that encourages local planning authorities to ensure the sites they choose for housing development can and will be delivered. With the housing market showing encouraging signs post-lockdown, now is the time for local authorities to work closely with home builders to deliver the homes required."
More Scottish architecture news is welcome on e-architect
Scotland Building Updates Early 2020
Winter to Summer news items:
4 June 2020
Red Tree Magenta, Shawfield, Glasgow
Design: NORR, Architects
photo © Keith Hunter Photography
Red Tree Magenta Building
Clyde Gateway embarked on delivering the first commercial building at the 11ha Magenta Business Park site, Shawfield to act as a catalyst to the market, prove it as a business location and to demonstrate the viability of the remediation strategy for the wider site.
27 May 2020
New Homes Quality Board – interim board announcement
First step towards creation of New Homes Ombudsman scheme
The first step towards the creation of a New Homes Ombudsman (NHO) scheme has been announced with the appointment of an interim New Homes Quality Board (NHQB) chaired by "New Homes Quality Champion" Natalie Elphicke MP.
As a new independent body, the NHQB will have responsibility for the quality of new build homes and consumer redress. It will be guided by the principles of independence, transparency and integrity, and will comprise a mix of representatives of consumer bodies, home builders, warranty providers, lenders and independents such that it will not be dominated by any one group.
The interim board has 'met' for the first time and will now:
• oversee the composition and appointment of a permanent board;
• complete, consult on and adopt a new comprehensive and robust industry code of practice that will place more stringent requirements on all parties involved in the construction, inspection, sale and aftercare of new homes;
• agree a process to appoint a New Homes Ombudsman (NHO) service to adjudicate against the new code.
Nicola Barclay, Chief Executive of Homes for Scotland, said:
"While housing is a matter that is devolved to the Scottish Government, consumer protection remains a reserved matter and so comes under the responsibility of Westminster, making a UK-wide solution crucially important. Working closely with colleagues in the Home Builders Federation in England, we are delighted to see this progression which reinforces our determination to ensure a high-quality home for each and every purchaser. We are also pleased that the stringent requirements will see consumers receive the same level of clarity and consistency wherever they live."
The ambition is that a permanent chair and board will be in place by Autumn with a view to the new code and ombudsman service being in place by the start of 2021. There will then be a transition period for builders to sign up to the new arrangements. It is anticipated Government will ultimately legislate to improve consumer redress as soon as possible and these new proposals aim to complement such reform.
Natalie Elphicke said:
"This is a welcome move, and a much needed step in the right direction. I am committed to ensuring that the new arrangements will deliver a step change in the quality of new homes and customer experience. They will be based in the principles of independence, transparency and integrity, values I know Government and the industry are determined to instil. I look forward to working with all parties to finalise and implement these changes as quickly as possible."
All the new arrangements will be paid for by the industry and once established, the NHO will be free to consumers, with access being through a new portal.
Natalie Elphicke is a qualified barrister and solicitor. In 2015 she was awarded an OBE in the Queen's Birthday Honours for her services to housing. Natalie's background is as a national specialist in complex housing and structured finance law and public policy. A former international law firm partner with over £4billion transactional experience, she had been described as "probably the best in the City" in her specialist area of housing.
She has extensive experience structuring and successfully setting up new organisations in her professional capacities, working with a diverse range of stakeholders. This includes most recently at the Housing & Finance Institute. She has a strong reputation as an independent commentator on housing matters ranging from housing policies to building new homes faster as well as in relation to the quality and safety of new build construction.
Natalie is a member of the Jaywick Sands coastal community team and a member of the NHBC advisory panel. She is a voluntary worker at her local homeless shelter, having previously volunteered at free legal/advice centres over many years. In December 2019, Natalie was elected as a Member of Parliament for Dover & Deal.
21 Apr 2020
Housing delivery can build way out of coronavirus crisis
Responding to today's publication of the latest UK State of the Economy report, Chief Executive of industry body Homes for Scotland Nicola Barclay said:
"Whilst public health has quite rightly been the government's top priority up to now, it is clear that the economic fallout could have even further reaching consequences for the country. Today's report highlights that Scotland's GDP could fall by 33% during the current period of social distancing, with construction noted as one of the most exposed sectors.
"We share the Economy Secretary's desire to rebuild the economy as quickly as is safely possible and believe that we can, quite literally, build our way out of this. This is why we are working on a recovery plan which includes the core components necessary to kickstart home building, including putting robust control measures in place to protect workers, home purchasers and tenants, as well as working across the sector to ensure everyone is ready to go as soon as we can.
"Delivering the homes of all types that our country needs brings many significant benefits in terms of protecting vital jobs and skills, improving social wellbeing and contributing more widely to the economy through the extensive supply chain.
"Restarting from a standstill requires considerable planning and co-ordination so it is imperative that the Scottish Government works closely with industry to establish a programme for recommencement so we can provide the homes that so many people desperately need."
9 Apr 2020
Mark Baines, Glasgow School of Art
Mark Baines, who has been a seminal part of the School for 50 years, has passed away (not Covid-19 related).
Mark was one of the first cohort to study on the full time programme at the Mac, went on to work with Andy and Isi at Gillespie Kidd & Coia, with Ian O Robertson Architect and Ian Bridges Architect before returning to GSA to teach generations of architecture students, most recently as Stage Leader for the DipArch programme.
Below is a tribute from his long-time colleague Johnny Rodger, Professor of Urban Literature at The Glasgow School of Art: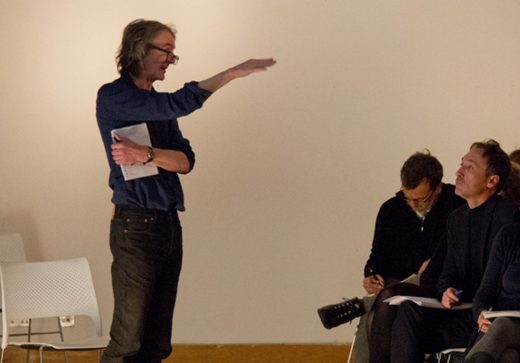 Mark Baines
It is with great sadness that we hear of the passing away of our colleague Mark Baines. As an esteemed and respected teacher, practitioner and critic, Mark Baines played a distinctive and vital role at the heart of architectural culture in Glasgow and Scotland in general. Any comprehensive list of his important achievements and his experiences could never be retailed in the space available here, and his place in Glasgow life was a unique one.
His long connection with the Mackintosh School of Architecture started in the early 70s when he was amongst the first cohort of full time architecture students at his beloved Glasgow School of Art. After going out to work as a practising architect for a few years he returned to teach in the school in 1982 and he taught there right up until 2020.
Generations of students were influenced by his encyclopaedic knowledge of the field and his quiet, patient, insightful and inspirational analyses which opened up a whole new spatial and structural world to them. He was the critical eminence grise behind the student edited annual MacMag, and he guided and oversaw the production of that publication which has refined and exposed the creative spirit of the Mac students since 1974. Public recognition of his position as a towering figure in the pedagogical culture of the Mac came when at the Royal Incorporation of Architects in Scotland's annual Design Tutor of the Year Awards in 2013 he was given a Lifetime Achievement Award.
After MSA Mark started his professional career at the firm of Gillespie Kidd and Coia. The firm had a long association with teaching in the school going back to the 1920s and arguably longer, and Mark joined them as they were at the cutting edge of the rebuilding of the country after WWII. His experience there under the tutelage of Isi Metzstein and Andy MacMillan, set the standards for his own life as an architect and architectural teacher in terms of the fundamental importance of drawing, the vision of the discipline as a collaborative one through the methodologies of the studio, and the necessity of a discursive critical approach to the work.
Mark went on to work with other firms like Ian O Robertson Architect and Ian Bridges Architect through the eighties and onwards , especially on housing projects, and in 2007 completed the design and construction of the massive Merchant Building –a contemporary response in scale and material to the historical setting of Glasgow Cross – with his firm Gholami Baines.
As a critic Mark Baines played a prominent role as a public intellectual, writing chapters and articles for magazines, books and catalogues, putting on exhibitions and giving talks to innumerable groups and societies. Although his knowledge of architecture and architectural history was inexhaustible, and his moral and ethical discourses on where we live and how we do it drew a broad civic public, he became particularly well known for his critiques in a few specialist areas. After working with GKC and studying their work he became one of the acknowledged world experts in the field, writing extensively on the importance of their work in an international sense.
Among the exhibitions he curated on the GKC work, his 2007 one drew the biggest viewing public that The Lighthouse has ever had for any show. He was also an authority on the great 19th century Glasgow architect, Greek Thomson, wrote extensively on his work, campaigned to save numerous of his buildings, and was Chair Person of the Greek Thomson Society. Although his own tastes and indeed practice were of a contemporary not to say modernist outlook, Mark Baines worked tirelessly to broadcast to the world the genius of Thomson's work and his importance to architectural history.
Mark was a respected and admired colleague, and was recognised by his fellows for the perspicacity of his vision, the originality and acuity of his judgement and the consistency of his approach. For many people he embodied the successes of the studio system at the Mackintosh School of Architecture, as a humane teaching and learning environment. Generations of students and colleagues from all around the world have been humbled then inspired by the breadth of his culture and his willingness to share it. He will be missed greatly at the Glasgow School of Art to which he was totally committed as a creative and collaborative institution.
Johnny Rodger, Professor of Urban Literature at The Glasgow School of Art
9 Apr 2020
New Town North Development at Former RBS Site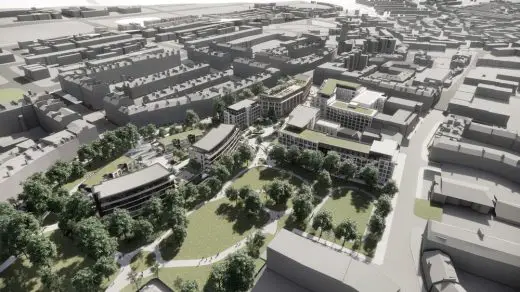 image courtesy of architects
Edinburgh New Town North Development
10 Mar 2020
Judges line up for 2020 Scottish Design Awards
The judging panels for the 2020 Scottish Design Awards have been confirmed with a mix of figures from industry and academia coming together to celebrate the nation's best new work:
2020 Scottish Design Awards News
29 Feb 2020
Celebrate Perth's New Creative Hub – Official Opening and First Exhibition
Perth Creative Exchange, a £4.5 million creative hub which will help boost the local Perthshire arts economy, was officially opened at a launch ceremony on Wednesday February 26, by the Provost of Perth and Kinross, Dennis Melloy.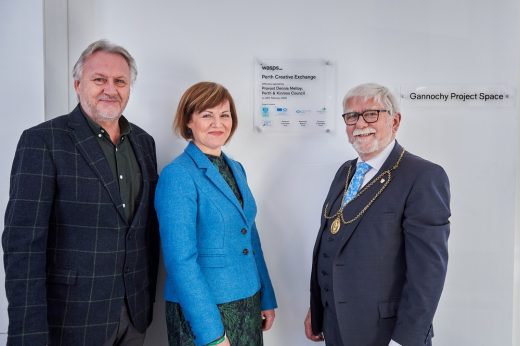 photo : Fraser Band
Perth's New Creative Hub
29 Jan 2020
The Watch House, Crail, Crail, Fife, Eastern Scotland
Architect: Alan Dunlop



drawing © Alan Dunlop
The Watch House in Crail, Fife
Planning Approval and Listed Building and Conservation Area Consent granted unconditionally for this historic property renovation in Crail. The building is listed and sits within the conservation area in Crail, overlooking the Firth of Forth and The Isle of May.
17 Jan 2020
Paisley Museum Building News, western Scotland
Design: AL_A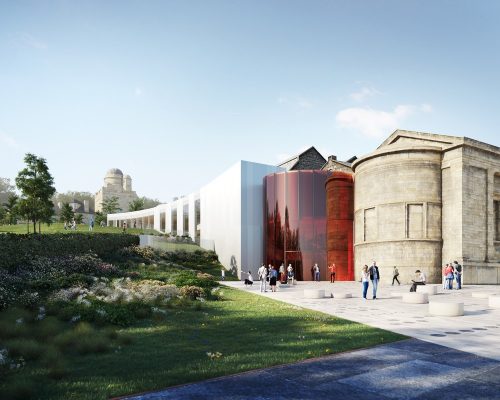 image courtesy of architects office
Paisley Museum Renewal
Plans to transform Paisley Museum into a world-class visitor destination telling the town's unique stories, including that of the globally admired Paisley Pattern, have taken a major step forward as The National Lottery Heritage Fund announced £3.8million of support for the project.
25 Feb 2020
The Glasgow School of Art appoints Penny Macbeth as new Director
The Glasgow School of Art has appointed Penny Macbeth, currently Dean of Manchester School of Art and Deputy Faculty Pro-Vice Chancellor for Arts and Humanities focusing on external engagement and partnerships, as its new Director following an extensive international search:
New Glasgow School of Art Director: Penny Macbeth
25 Jan 2020
New Gorbals Housing Association, Crown Street, Glasgow
Design: Page\Park Architects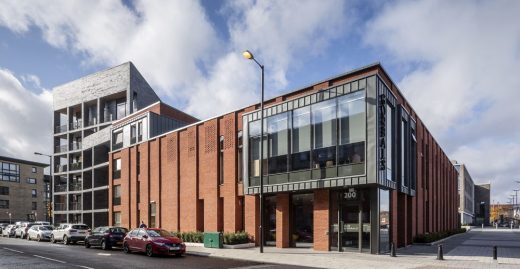 photograph : Keith Hunter
New Gorbals Housing Association Glasgow
The new home of the New Gorbals Housing Association is a bespoke office and civic piazza forming the
centrepiece of the Crown Street redevelopment in Glasgow.
7 Jan 2020
Lesley Samuel joins Halliday Fraser Munro as a landscape architect
A rise in masterplanning project wins across Scotland has seen award-winning architectural design and planning practice Halliday Fraser Munro bring high-level expertise to its team, adding landscape architectural services to its portfolio:
More info on the Edinburgh Architecture News 2020 page
More contemporary Scottish Architecture News on e-architect soon
Scottish Architecture News 2019
27 Nov 2019
Ashtree Road Pollokshaws Award News
Graeme Nicholls Architects along with clients Home Group in Scotland and Merchant Homes Partnerships are celebrating this week after their Ashtree Road development won not one, but two awards at the prestigious 2019 AJ Architecture Awards.
10 Oct 2019 ; 23 May 2019
New Macallan Distillery Building, Speyside – 2019 RIAS Andrew Doolan Best Building in Scotland Award Winner
Architect: Rogers Stirk Harbour + Partners ; Exhibition Design: Atelier Brückner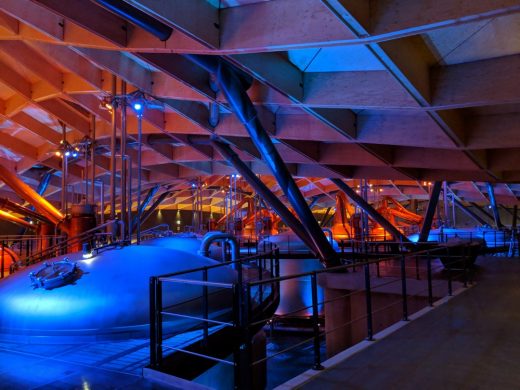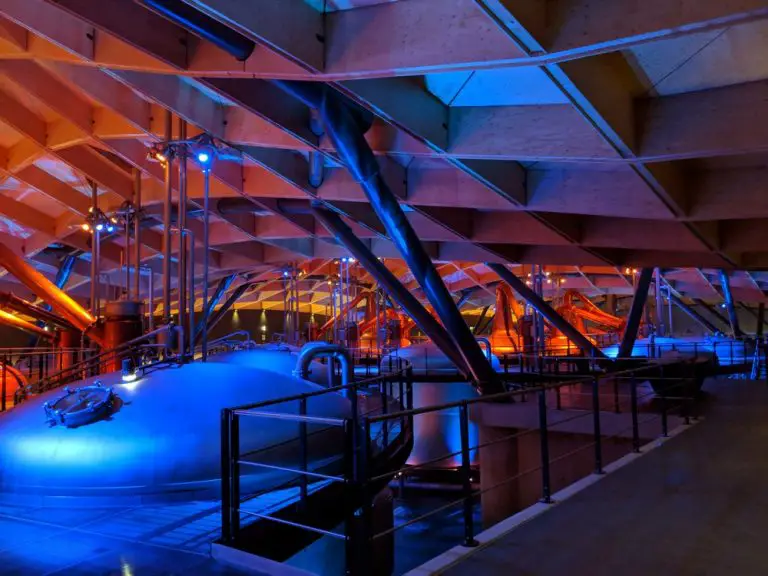 photo © Speirs + Major
New Macallan Distillery Building
The Macallan Distillery and Visitor Experience in Speyside reveals the production processes and welcomes visitors while remaining sensitive to the beautiful surrounding countryside.
5 Oct 2019
Scottish Architecture Student Films
Two films here, by Edinburgh architecture student Daniel Lomholt-Welch:
Schiehallion:

Fragmentation:

1 Oct 2019
Perth Affordable Housing Electric Car Charging Points
Perth housing development news: Muirton Living
25 Sep 2019
RIAS Andrew Doolan Best Building in Scotland Award 2019
24 Sep 2019
RIAS respond to Public Enquiry into 2 Scottish Hospitals
The Scottish Government has announced a public inquiry will be held to examine issues at the new Royal Hospital for Children and Young People (RHCYP) and the Queen Elizabeth University Hospital (QEUH) sites.
RIAS President Robin Webster OBE says;
"The RIAS welcome the move by Health Minister Jeane Freeman's to hold an inquiry into the delivery of Scotland's 2 hospitals. This follows our earlier support for inquiries into failures in Schools across Scotland and our continued involvement in these discussions.
The removal of a co-ordinating overseer with professional independence; a broad and comprehensive understanding of the building design and the procurement process; with the time to apply that understanding and vitally, the executive authority to influence it, has inevitably allowed many gaps in the procurement process to open up; such that responsibilities are clouded, and appropriate resolution of issues fails to occur."
18 Sep 2019
Fairways – Townhouses, St Andrews, Fife
Design: Sutherland Hussey Harris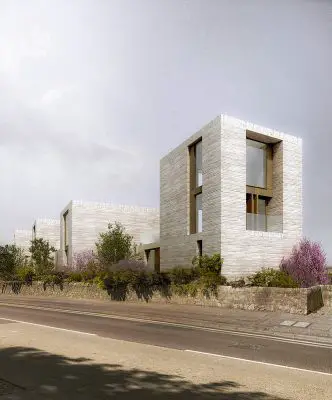 image courtesy of architecture office
Fairways Townhouses by St Andrews Old Course
The Fairways – Townhouses in St Andrews are laid out so that one taller, tower-like building form addresses the urban setting facing towards the town centre.
6 Sep 2019
Whitehorn Hall Student Accommodation, St Andrews, Fife
Whitehorn Hall Student Accommodation
8 Sep 2019
Scottish Design Awards Winners
Clydebank Community Sports Hub by Marc-Kilkenny Architects wins:
Scottish Design Awards 2019 Winners
6 Sep 2019
Paisley Museum Renewal News
Paisley Museum Renewal News
Paisley Museum Renewal, Scotland, design by AL_A, transforming the building into a world-class destination showcasing the stories of a Scottish town whose influence reached around the globe.
2 Sep 2019
£200m construction projects signal Glasgow move for architects Halliday Fraser Munro
Barclays Campus, Buchanan Wharf architects Halliday Fraser Munro relocate to larger Glasgow office after winning £200m worth of city construction projects
Halliday Fraser Munro Architects in Glasgow
Scottish Buildings News in 2nd Part of 2019
Scottish Building News 2019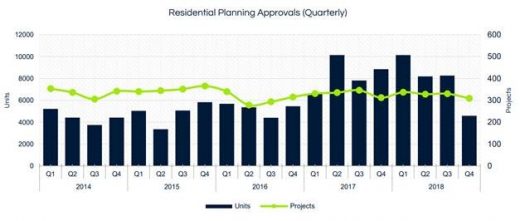 image courtesy of HfS
Scottish property news from earlier in 2019:
Scottish Architecture News 2019
More Scottish Architecture news online soon
Location: Scotland
Scotland Buildings Updates Archive
Scottish Architecture News 2018
Scottish Architecture News 2017
Scottish Architecture News 2011
Scottish Architecture News 2010
Glasgow Architecture News 2020
Scotland Architectural Resource Links
Royal Incorporation of Architects in Scotland News
RIAS/RIBA Awards 2019 Shortlist news
Best Building in Scotland Award
Architecture Design Scotland News
Buildings / photos for the Scottish Building News page welcome